Ranakpur - Kumbhalgarh
1. Ranakpur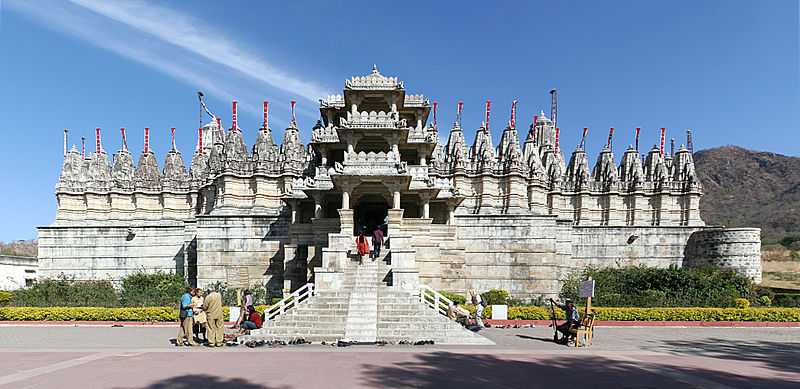 Ranakpur is a village located in Desuri tehsil near Sadri town in the Pali District of Rajasthan in western India. It is located between Jodhpur and Udaipur. 91 km from Udaipur, in a valley on the western side of the Aravalli Range. The Nearest Railway Station to reach Ranakpur is Falna Railway station. Ranakpur is one among the most famous places to visit in Pali, Rajasthan. Ranakpur is easily accessed by road from Udaipur.
1.Along with magnificent architecture and numerous pillars, the place is also famous for large population of monkeys that live in and around the place. The ladies of the town donated 90 ounces of gold to the construction of the temple.
2.Ranakpur is widely known for its marble Jain temple, said to be the most spectacular of the Jain temples. There is also a small Sun temple which is managed by the Udaipur royal family trust.
2.Kumbhalgarh
Kumbhalgarh ("Kumbhal fort") is a Mewar fortress on the westerly range of Aravalli Hills, in the Rajsamand district near Udaipur of Rajasthan state in western India. It is a World Heritage Site included in Hill Forts of Rajasthan. Built during the course of the 15th century by Rana Kumbha, Kumbhalgarh is also the birthplace of Maharana Pratap, the great king and warrior of Mewar. Occupied until the late 19th century, the fort is now open to the public and is spectacularly lit for a few minutes each evening. Kumbalgarh is situated 82 km northwest of Udaipur by road. It is the most important fort in Mewar after Chittaurgarh.
Built on a hilltop 1,100 m (3,600 ft) above sea level on the Aravalli range, the fort of Kumbhalgarh has perimeter walls that extend 36 km (22 mi), making it one of the longest walls in the world.The frontal walls are fifteen feet thick. Kumbhalgarh has seven fortified gateways. There are over 360 temples within the fort, 300 ancient Jain and the rest Hindu. From the palace top, it is possible to see kilometers into the Aravalli Range. The sand dunes of the Thar Desert can be seen from the fort walls.
| Image | Car Name | Package Amount | |
| --- | --- | --- | --- |
| | DZire | 2880 | |
| | Etios | 2880 | |
| | Tavera | 3520 | |
| | INNOVA | 3650 | |
| | Tempo Traveller | 5850 | |
| | Mini Bus | 10900 | |
| | BMW 5 Series | 23000 | |
| | Mercedes-Benz E-Class | 22000 | |